Posted by Mike Wendt on April 30, 2012 Jump To Comments
If you read last week's Pre-Draft column, you can probably assume that I'm pretty happy with the picks the Packers made. The prediction of Nick Perry turned out to be spot-on, and the Packers traded up in the second round to grab Jerel Worthy, another guy on the list. Now that the picks are official, let's take a look at how the fresh faces should impact the Packers in 2012.
Nick Perry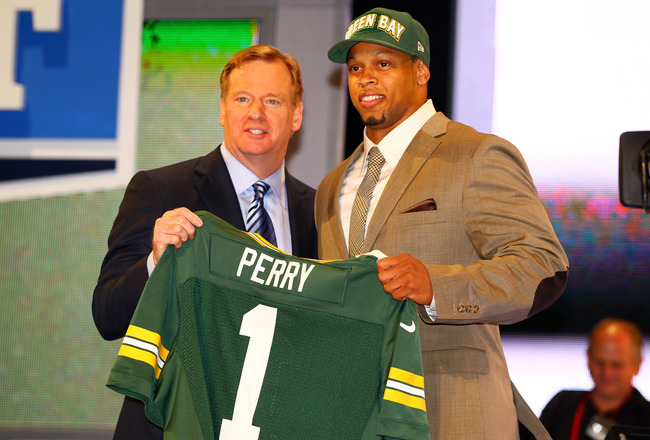 The Packers' first round pick has a chance to make an impact right from the start. Perry is already listed as the starter on some unofficial depth charts, and he'll challenge Frank Zambo and Eric Walden for the opportunity to start opposite Clay Matthews. The Packers re-signed Walden last week, but they clearly envision Perry as the future at outside linebacker. Perry has great speed off the edge and should be able to get pressure on the quarterback, something the Packers struggled to do last season. The Packers will be a force to be reckoned with if Perry can play anywhere near the level of fellow Trojan Clay Matthews.
Jerel Worthy
Worthy easily could have been a first round pick, and Ted Thompson knew he wasn't going to stay on the board until the Packers' pick at #59, so he moved up to get the big boy from Michigan State. The Packers would love to have Worthy anchor the right side of the line, as that side lacks the size of the other starters. As it stands now, Pickett and Raji, the other two starters, are listed at 340lbs and 337lbs a piece. Worthy is only listed at 310lbs, but he's bigger than Anthony Hargrove (272lbs) and Jarius Wynn (285lbs), the two guys who are expected to compete for the other starting defensive end position. If either Perry or Worthy plans out, this draft will be considered a success for the Packers.
Casey Hayward
Hayward is a name I hadn't heard much of before the draft, but after doing some research I think Hayward can be a great addition to the Packers. Hayward is a ball-hawk, with 11 interceptions over the last two seasons. Some people think he lacks height, but both Tramon Williams and Sam Shields are also listed at 5-11. The biggest rumor this offseason is whether or not Charles Woodson will move from cornerback to safety, and it looks like that may very well be the case with the Packers moving up in the draft to get Hayward. Hayward could easily be starting across from Tramon Williams if the Packers roll with Woodson and Burnett at safety.
Mike Daniels
The Daniels pick was the first pick I didn't love. Daniels is pretty small for the 3-4 system (6-0, 290lbs) and he's stuck behind Pickett, Worthy, Hargrove and Wynn on the depth chart. I would have liked to see the Packers take a chance on a running back here, but the Packers were so bad at getting defensive pressure last season that the pick makes sense. He'll battle to be a second-string defensive end in training camp.
Jerron McMillian
McMillian has been compared to Atari Bigby, an aggressive safety who isn't afraid to land a big hit on receivers and running backs. McMillian will likely be groomed to become a starting safety once Chuck Woodson retires, but if Chuck stays at cornerback this season McMillian could see plenty of action in 2012. McMillian has great size and speed for a safety, and his presence helps fill the void left by Nick Collins, who was released after suffering a neck injury last season.
Terrell Manning
Many people had Manning being taken earlier than the fifth round, but he continued to fall on the third day of the draft and the Packers moved up to grab him. He'll compete with Desmond Bishop, AJ Hawk, Robert Francois and DJ Smith for reps at inside linebacker. If he play up to his ability, he could give Hawk a run for his starting spot.
Andrew Datko
Will provide depth on the offensive line. He'll have to earn his roster spot in training camp first though.
BJ Coleman
He'll battle Graham Harrell for the right to backup Aaron Rodgers.
So what do you think of the Packers' draft? Thought on Perry, Worthy and the gang? Drop me a line at wendt@brentfavre.com or on Twitter @MikeWendt7
---