Posted by Anthony Schmidt on March 9, 2011 Jump To Comments
Today I would like to discuss the finer points of trash talking. Because what is brentfavre.com about if not trash talking? Trash talking can be one of the most rewarding things we do in support of our team. It can also be one of the most disrespectful things you can do for your team.
As fans/owners of the Green Bay Packers, we must hold ourselves to a higher standard when delivering the verbal smack down to our rival's fans. The things we say do in some small way represent the Packers, even more so than the fans of other teams.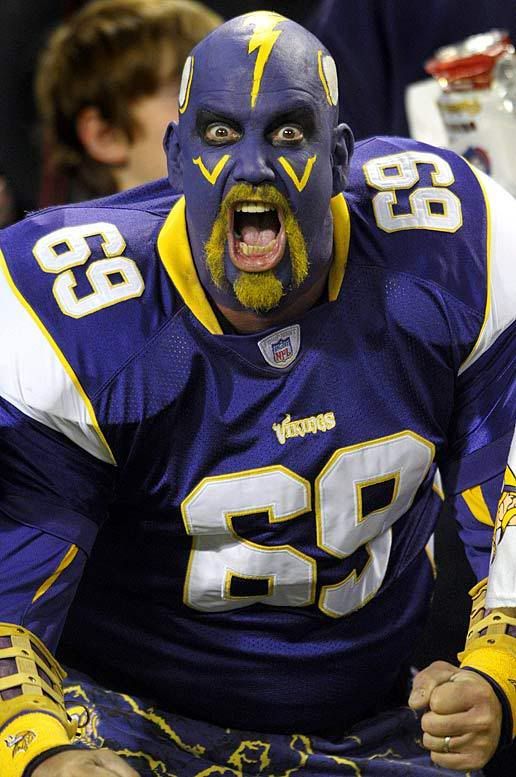 Here are a few Keys to successful trash talking.
1. Know the Facts.
Prior to engaging in any trash talking it helps to have done at least a small amount of research. For example, when I trash talk Vikings fans before any big game I read up a bit on how the Vikings have been playing. It also helps to know how the Packers have been playing and which teams they have beaten compared to the teams the Vikings have beaten (if any).
2. Know MORE facts.
The more Facts you have about the stats of your players compared to the stats of the players of the other team, the better off you are. This doesn't mean you have to run a statistical analysis of each player, but it does help to know who's QB is statistically better and how many points each team's defense has allowed each game.
3. Cherry Pick the Facts.
Even if your team isn't doing as well as the other team, be sure to focus on the things your team is doing well. In week 15 the packers were 8 and 6 and the Bears had won the division. For the next two weeks I made sure to remind Bears fans that the Packers were really only 26 points away from being undefeated and that the Bears were one bad last second call away from being knocked off by the Lions at home on the opening day of the season. Even though the Bears fans I trashed talked with, should have had the upper hand, I was able to make them doubt their team because I focused on the Packers highlights and the Bears lowlights. Focusing on the fact that the Packers won the Super Bowl and avoiding the fact that they almost missed the playoffs is another great example of cherry picking… however it can be turned around if you frame it in the right light. Saying the: Packers almost missed the playoffs and had the longest and toughest road to the Super Bowl and yet we still ended the season with the Lombardi Trophy, is what I call spinning it!
4. Know your History.
Knowing that the Vikings have lost four Super Bowls and that the Packers have won four Super Bowls is an unspeakably powerful weapon to have in your arsenal. Facts like that get under the skin of Vikings fans like nothing else. They have no come back for it. If they seem unfazed by this fact quickly remind them about Gary Anderson and twelve men in the huddle. Using these kinds of Facts can be very rewarding and almost always guarantees capitulation.
5. Be Tactful.
Don't make personal attacks. Don't use fowl language. Don't use sweeping generalizations and most importantly of all don't use Hate Speech.  You are only making yourself and your football team look bad… not the other way around. Stick to the facts and you can't go wrong. Even when the Fans you are trash talking break this rule, don't give in. One of your objectives should be to get them to break rule five out of sheer frustration, when they do this it means you won. If you break rule five it means you lost.
6. Have a clear Objective.
Having a clear objective is an oft-overlooked part of trash talking. What are you trying to accomplish through your trash talking? At different points in the season/off-season I have different objectives for my trash talking. Right now (being the off-season) my goal is to rub the Super Bowl win in the faces of the fans of the Bears and especially the Vikings. I do this by sticking to the above stated rules. The biggest hurdle I have had to overcome in accomplishing my objective is finding any Vikings or Bears fans willing to listen. I usually find Vikings and Bears fans posting comments on articles about their teams on NFL.com However they are usually chased off whenever I come around and start telling them how bad their teams were and are. They are experiencing a lot of shame these days and are not ready to come out of hiding. The best way I've found to get them started is to start out by asking them non-confrontational questions about their team or about the NFL. Example: 'Hey are you excited about next season getting started?' Vikings fan response: 'Awe jeez I shur am!' My response: 'Me too, of course I probably wouldn't be if I were a Vikings fan.' This is a great way to goad them into a trash talking battle they cannot win.
7. Have Fun.
Trash talking is supposed to be fun. So go out there and tactfully rub it in the faces of all of your Bears and Vikings fans friends, because you never know when you might have the chance to do it again.
If you have any trash talking stories about how you Pwned or got Pwned by someone be sure to tell me about it in the comments section.
---